Ticket transactions still look a little different since COVID…our agreed upon protocol requires that we register each individual. This may change in the near future but for now each attendee must register a ticket. Thank you for your understanding…we are so happy to be OPEN to serve you!
CLICK HERE to go to Films in the Forest…click on the film poster to buy tickets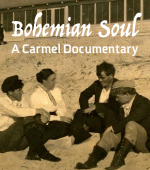 Please Join us for the Carmel Public Library Foundation Local History Lecture Series on Wednesday October 26th, 2022 at the Forest Theater for the grand premiere of Bohemian Soul: A Carmel Documentary by House of 8 Media. Click here to register for this free event.and discover the gifts of artists past and present on the Central Coast through this intimate 1 hr film
Celebrating the Beatles is a multimedia extravaganza the performance features a live band playing 25 Beatle songs, with video clips, images and storytelling that weaves the tale of the Beatles, the worlds greatest band, musical history from their beginnings in Liverpool to their breakup in April of 1970, including a look at each of their 13 albums released between 1963 and 1969.
The show was conceived, written and is narrated by Mark Shilstone-Laurent and features some of the areas nest musicians in what they have dubbed The Nowhere Band. Included in the band are Anne and Pete Sibley, an award winning, nationally renowned folk duo who live in Carmel. The band follows the story chronologically, playing at least one song from every album – often more. In addition to the Sibleys, The Nowhere Band consists of Doug Fearnside, Dustin Carroll, Jeff Covell and Justin Noseworthy and Shilstone-Laurent. (members could change given the unpredictable nature of COVID)
In 2019, Shilstone-Laurent produced his first multimedia show, Celebration 69. The format was similar – a chronological, January to December look at the history and music of the single most amazing year of the 20th century, 1969. Shilstone-Laurent says, "Audiences really seemed to dig the format – lots of great music played live, mixed together with lots of fun stories with some little known details. Doing the same thing, but focusing on The Beatles, just seemed like a no brainer. And I've written it so that its for everyone from the most casual of Beatles fans to the manically obsessed – all will learn something they didn't know about the worlds favorite band. "
The show was created as a fundraising tool for nonprofit organizations
in Monterey County, and will be performed at other venues as benefit
performances for other nonprofits through the end of 2022.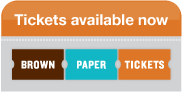 Feed the need for musical hilarity with this delicious sci-fi smash about a man-eating plant with the Forest Theater Guild production of LITTLE SHOP OF HORRORS June 23-July 10, 2022. A deviously delicious Broadway and Hollywood sci-fi smash musical, Little Shop Of Horrors has devoured the hearts of theatre goers for over 30 years. You may have noticed we pushed the dates out and are down to 3 weeks of performance…this is due to cast illness.
Brad Bauer directs, with musical direction by Miranda Perl, and choreography by Camrin Dannelly. New comer to the Guild but not Carmel, Aaron Krietman designed this slick skid row set with lighting design by long time Guild advisor Steve Retsky. Another newcomer to the Guild is veteran actor and film maker, Emmi Green, who brings a wealth of knowledge as the puppeteer advisor. With an all star studded cast of vocal powerhouse and acting chops, this is one show not to miss!

Join the Forest Theater Guild for COMEDY IN THE FOREST, a live comedy show created on the spot starring local talent. Saturday, June 4, 7:00-8:30 pm. This laughter filled event, styled similarly to "Whose Line Is It Anyway?", uses suggestions from the audience, and a willing volunteer or two, where players create entertaining scenes instantly on the spot, completely unscripted and spontaneous. Ushering in the start of our summer season at the Forest Theater, the wildly talented MONTEREY COMEDY IMPROV joins us again! If you have attended previous Comedy in the Forest events, then you know just how much fun this evening will be! Show material is appropriate for age 16 plus.